Discussion Starter
•
#1
•
So last night I spent about 2.5 hours finding out how this valve cover comes off. Holy crap I've never seen so many things bolted to a valve cover before...
Tools
-10mm Ratchet and/or wrench
-8mm Ratchet and/or wrench
-5/8 wrench
-Flathead screw driver
-New seals and gasket
-Cleaning supplies
*** There's a large Hex Post that needs to be removed that the PVC box bolts into. I used a 5/8 Wrench to remove it.***
After you have moved all of the brackets, Ignition wires, coil packs, PVC Box, Heat Shielding, and tubes, you're ready to remove the valve cover.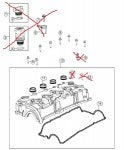 The valve cover gasket is really easy and so are the spark plug seals. I just used a flat head screwdriver and pried out the spark plug seals from the top of the valve cover.
***Use this time to clean everything thoroughly.***
After you remove the seals and everything is clean you just pop the new seals and gasket in from the under side of the valve cover. Do everything in reverse and you're done!