Discussion Starter
•
#1
•
So my Dart is only 5 months old with a little over 4k miles. And now my Uconnect 8.4 (no NAV) is acting funky. So I'm wondering if anyone else experienced this issue and know how to self solve it or I just need to take it to the dealer and have it looked at? I have searched around the site to see if this has been covered already, and I didn't find anything.
So here is the issue...
Before:
I have SiriusXM radio subscription. And it use to show a logo for each station, as pictured below: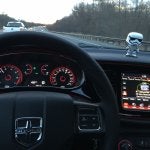 Also I use to be able to enjoy my 4th gen iPod Nano with no issues. Album artwork would display. And all features and controls were useable, such as "shuffle". As pictured below:
Now:
Currently my SiriusXM radio stations does not display a logo for each station, as pictured below:
And now all my features and controls with the iPod plugged in are now unusable. I can no longer "shuffle" or make sections. I can only access "playlists". As pictured below:
Solutions that I have already tried include:
Reseting my iPod.
Updating my iPod.
Updating my uconnect to the latest version. (I had this issue prior to updating my uconnect.)
Trying a different iPod. (Same issue exists.)
Tried plugging my same iPod in another Dart. (Works perfectly fine in another Dart.)
In a nutshell, my uconnect still plays XM radio and my iPod, I just don't have all the features and functionality. So I am wondering did SiriusXM decide to ditch showing logos for stations or its just my Dart? And how can I fully enjoy using my iPod again, because I don't think this is an "Apple product" issue.