Discussion Starter
•
#1
•
I didn't put this in the build section, because even though I spent enough time and money on it for it to be a "build" it isn't.
OK, as some of you know, my wife got sideswiped by another driver a little over a month ago. We got the car in my shop to repair it, and noticed some paint issues that I had never noticed before. The first thought I had was "CRAP, we got something on my wife's car!" I looked a little closer and quickly realized that it wasn't anything that could have gotten on the car at my shop. As a matter of fact, it isn't anything that "got on" the car at all. I have calmed down somewhat, so maybe I can get through this without losing my cool.
I have been in the Collision Repair Industry since 1992. I don't, by any means, claim to know everything there is to know about cars, or collision repair, or paint, or anything else for that matter. I DO know that after 20+ years of experience what to look for in terms of previous paint work. As, I have stated already in other threads, I know, beyond the shadow of a doubt that this car had been repainted at the factory, not once, but twice. I knew it when I bought the car with 5500 miles on it, but other than a couple of light dings from nuts or something in the roof, hood, and deck lid, there wasn't anything to really "pick" on the car. It is VERY common for them to do spot repairs, or even (not AS common) repaint a whole car. My theory is that on the first paint some type of contaminant got on the car. I will show why I think it was in the first layer of paint as I upload pics. They then ran it back through in effort to cover the spots up. I'm not sure exactly what the process was between each paint job, because the mil readings varied 2-3 mils on different spots of single panels. I do know that something must have gone wrong with paint job #2, because they then painted it a third time! I called FCA to talk to them about it, and from the very beginning I got the runaround. I argued with them, cussed a few people out, and because I knew they had me by the balls (still trying to figure out how they snuck them out of my wife's purse) I borrowed my boss' truck and trailer to take the car to the dealership. Before I even got back to the shop from the dealership, the service manager was on the phone for me. FCA had denied the claim saying that the car had been in a bodyshop.
I'm going to pause here and ask…. How many people would have a new car repainted the factory color, that had NO DAMAGE on it? That is what the case would have to have been. As I stripped the car (again, I will explain in the pics) I couldn't help but notice that all I was stripping was basecoat and clearcoat…. NO PRIMER. I have never worked at a body shop that didn't use some type of primer before painting something. Mainly because for a typical paint job, the reason it is happening is because the car is damaged. I stripped 2 full layers of paint, and in the areas I knew to be affected by the contaminant I stripped the bottom layer off as well. I spent 70-80 hours stripping the car. I tried and tried to get Fiatsler to send someone out, or let me send them pics of the car, proving that it was THEIR PAINT that had an issue, but they are a bunch of pieces of trash. I have PROOF that the car was painted three times, before any trim was ever installed on the car. Once again, I will explain it as I upload pics. I also have a few videos I'm going to link (again) for anyone to view. It's not like I was trying to get them to cover painting the whole car, I simply wanted some help with the cost. I have been Mopar since I was a kid. The loyalty I have shown the company over the years was turned into dog turds and thrown in my face. I'm not getting rid of the Dart (I have too much invested in it now), and I'm keeping my Dakotas, but I will not buy a new Dodge, Fiat, Chrysler, Jeep, or anything else they manufacture from here on. Simply because of the way they crapped in my mouth about this whole deal. Personally, I now hope the company goes bankrupt in my lifetime.
OK, I feel my BP rising, so END RANT, time for pics.
The damage is in the front bumper, RT fender, and RT FRT door. You can see the damage in the bumper, but the fender and door are a little hard to see in this pic
Better pic of the fender and door. We replaced both, which means the color needed to be blended on the rear door.... stay tuned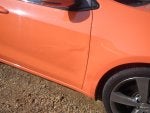 In this pic, you can see the blemishes in the paint. this is the rear door, which was supposed to have been blended. only clearcoat was to be in the area in this pic, which is around the door handle at the back of the door. for those of you who don't know what that means, it means the imperfections would have been cleared over, and probably would have shown up worse than they did to begin with, or our paint would have failed due to the imperfections being there.
Remember when I said (contaminant in the 1st layer)? The following two pics will explain that theory. One is in the jamb, showing 4.7 mils (4-6mils is typical for an oem finish) and the other is
17.1!
Notice just to the left of the milgage one of the spots showing in the jamb that is only 4.7 mils
17.1 mils is WAY over one factory finish.
Now that I have shown you the spots, and the fact that it HAD been painted all over, I'm going to show you PROOF that it was done before the car left the factory.
This is one of the door handle pockets. Notice no tape lines, Not a touch of overspray. (im willing to bet there is now, since I painted it, because the CARRIERS WERE IN THE DOORS!!!) No reason to remove them before paint, no body shop would without good reason.
This is proof that the qtr glass was not in the car when it was painted. Again, no tape lines, no overspray. Notice there is only ONE bead of urethane. Yep, the glass had only been in the car once. With that in mind, and the fact that there were no tape lines, and no overspray, who thinks this was done at a bodyshop? Fiatsler can... well... gotta keep it PG in here.
Another of the qtr glass pocket. Notice where my glass guys cut the paint, but NO SIGNS of it being cut out before, or the qtr being painted with the glass in.
I have TONS of pics, but I would just be repeating myself. I still have the fender that we replaced (the frt door had already been scrapped). I have the videos, and I am going to sue them for everything I can get. As I said before, that wasn't my intent, but Hell hath no fury like a loyal follower who has had enough.
Please watch the videos, they are informative. Don't think for a minute that I am the only one with this issue. A TON of Hellcat owners have the same issues. I've been trying to get you Header Orange guys to investigate. It's fine, no hard feelings. I just hope you have this handy if the issues pop up on your car.
THINGS TO LOOK FOR IN THE VIDEOS
In the QC procedures, they use grease pencils to mark bolts, grommets, etc. If any of you open your doors, and look at the jamb of the door, you will see a black plug with one of these markings. That plug has to be removed in order to access removing the door handle. Either
A. the handles were removed, and the guy PAINSTAKINGLY put the plugs back in just like they had never been taken out (I couldn't help but laugh as I typed that. While it is possible, I think we have a better chance of Obama actually doing something good for this country)
B. They painted the Doors with the handles in (I will cover that in a minute)
C. They had never been in the car when it was repainted. (I am going to show you)