Discussion Starter
·
#1
·
Hey everyone!
Just wanted to share a good experience with a HID kit vendor that I found...
Dodge Dart HID Headlights Kits - Best Dodge Dart Xenon HID Lights
These HID kits are on sale right now, but I do not know for how long! Also, when you sign up, they will give you a 10% off discount code!
So lets get started!
Here is the un-boxing and look over of everything included in this kit!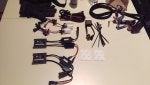 This kit includes:
(2)- Xenon HID bulbs (your choice of color)
(2)- Electronic ballasts (they ARE canbus! which will come into play later)
(1)- Relay Wiring Harness
(1)- "Warning Eliminator" aka Capacitor
(2)- 3M Double Sided sticky pads (for mounting the ballasts)
(1)- Handful of black zip-ties
Now, there is an option to upgrade to the "premium slim ballasts" for $20... I did this, but i dont think it will make a difference either way for this review/setup.
Here is a link to a youtube video that shows a little of the installation done by XenonSupply:
Now, there are multiple ways that you can install this kit... BUT it all depends on how the kit works with your dart... I read different reviews for different darts. One review for a 2013 dart stated that there is no way to install this without getting the "bulb out" warning... Another review for a 2015 said that once installed (without the capacitor) the relay would buzz very loudly! I also ran into this issue...
In the video above the guy says that when you drill into the bulb covers on the back of the headlight that you are supposed to make it 1-1/4" wide... THIS IS INCORRECT!!!
I found by using a step-bit/uni-bit that has a max hole size of 1-1/8" that this hole was still a bit too large for the rubber grommets that are on the bulb wires... If I had my best guess, I would say go with a hole about 1" in diameter for the grommet... You can always make it larger! That way the grommet fits snuggly and you dont have to worry about it moving around and letting moisture or anything in!
Now, on to the next little piece of info that I have found about these kits!
There are multiple ways that you can install this kit on our cars... I will include the wiring diagrams for those of you lighting/electrical nuts!
This is basic install:
This is install with the relay harness but NO capacitor:
This is install with the relay harness AND the capacitor:
As you can see, there really isnt much to setting this all up! I first started with the third diagram posted above, but I ran into an issue... The stock lights on the dart are halogen bulbs, meaning that they run reverse polarity to the HID... SO, when I installed the capacitor, I didnt realize that on of the plugs didnt match each other (red to red and black to black)... I decided that maybe the capacitor was broken or bad or something...
I went to the second diagram (shown above) and I installed the kit with the relay harness but without the capacitor... The lights came on!!! BUT the relay was buzzing like a hive of the most angry bees you've ever heard! I decided to both contact Xenonsupply and
@Cntrollerfanboy
for some more info!
Xenonsupply told me that they had heard of that issue and sometimes the relay can be bad as well as the capacitor... SO they shipped me a new wiring harness and capacitor FOR FREE!
@Cntrollerfanboy
went over all the knowledge he had with HID kits and other info with me and brought up the fact that halogen and HID are opposite polarity, so I needed to go back to the third diagram (above).
I then did just that, I installed the capacitor where it was supposed to go according to the 3rd wiring diagram, BUT I found the one connector that was opposite(red to black and black to red) and I took that connector and spun it around so that the wires matched (red to red and black to black)
SUCCESS!!!!
The lights came on! and were running great! Ding... ding.... ding... Then that terrible noise that we all have heard... the warning bling notifying you that something isnt correct or you have a CEL...
The "bulb out" warning was active on my TFT display... it wasnt a CEL (thank god) BUT it was more annoying... When I drove my car for the first time at night with the HIDs installed then damn warning bling must've happened about 10 times...
I HATE THAT SOUND!!!!!
So finally, I decided that there has got to be a way to remove that warning message as well as not have the relay buzzing... So I got to reading. I found that my impatient ass didnt read the description completely before I purchased everything... but it states on the Xenonsupply website(linked at the top) that the premium ballasts have both CANbus and anti-flicker capacitors built into them!
Then, after reading that and being told by
@Cntrollerfanboy
that as long as the ballasts are CANbus that they can be wired directly into the OEM headlight connectors... I decided to go ahead and remove the relay harness and capacitor that was sent to me with the rest of the kit and wire the ballasts directly into the OEM headlight plugs via the first diagram (above).
FINALLY!!!!!!!!!!!!!!!!!!!!
I found a setup that works! There is no relay to buzz anymore and no "bulb out" warning! Now, according to the youtube video and comments that are linked above, Xenonsupply recommends that you use the relay harness and capacitor to protect the ECU... BUT since the dart's headlights are controlled by the BCM we dont really have to worry! I have had them installed via the first wiring diagram (above) for about a week now and have had no issues!
Here is a comparison old vs. new:
Old:
New:
Old:
New:
I will tell you all this... These 6000k may not look like much when they are running as low beams, but when you hit the high beams... HOT DAMN! its like you said "LET THERE BE LIGHT!" and you will see so well in front of you! The funny thing is that on the Xenonsupply website, they say that the 4300K are the brightest ones they offer... With how bright these 6000K HIDs are, I cant imagine how bright the 4300K are!
I hope you all find this helpful!