Travis and everyone at Deyeme,
I just wanted to start off by saying thank you guys for supporting the Dart as much as you have and I as well as many here appreciate everything that you guys have produced for us.
And with that, I wanted to say I am SO excited because I just got my parts in!!!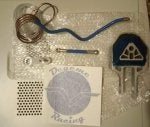 Also wanted to say a huge thank you to the gang at Deyeme for the sticker! I was literally thinking earlier today about ordering it but there it is! In the color I wanted! Also thank you so much for the extra hose to bleed the clutch!
I'm planning on making a video of the installation of all said parts. I know that there are already a lot of videos out there, but potentially (and hopefully) new comers to the forum with the MTX purchase these parts right off hand and hopefully this can be a good quality video with instruction on all of these in place for ease of finding the info. Even though I know the DM included instruction is clear. I know some people just feel better seeing it on video instead of on paper. I already filmed a really potato quality unboxing vid but will do some editing and post it here probably tonight. If not tonight then it will be next week.
Separately I wanted to create this thread so if I have questions or anything I am not clogging up the individual threads for these parts.