Discussion Starter
·
#1
·
Here is a quick run down on how to install the PTP Turbo Blanket for anyone who isn't comfortable figuring it out on their own.
1) The First Step is to remove the stock Engine Cover, it is attached by 2 10mm bolts. There is also a rubber stopper that sits in the center of the rear. The cover should lift from front to back and then pop right off.
2) Once the Engine Cover is off you will need to pull of the first small heat shield, it's attached with three 10 mm nuts. Once removed it will uncover the engine mount bracket for the heat shield.
3) To remove the engine mounting bracket for the heat shield you will need to remove the front nut a standard 13 mm socket should work. The rear heat shield bolts also need to be removed, but you will need a standard 13 mm wrench or a 13 mm deep well socket.
4) Lastly you'll want to remove the actual Turbo Heat Sheild, There are three small 10 mm nuts towards the top of the heat shield. There are also two 10 mm nuts on the bottom of the heat shield but it would require a standard 10 mm wrench or a 10 mm deep well socket. Careful with the bottom two nuts, they were a bit over torqued and one of them snapped when trying to remove the nut; Thankfully there was enough of the bolt to continue forward.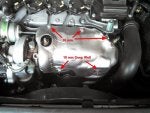 5) Now place the PTP turbo blanke over the mount points for the stock heat shield, you'll want to make sure the big hole is around the bolt for the engine mouting bracket. Once the blanket is in place bolt down the blanket with the stock nuts you removed in step 4.
6) Next you'll want to re-attach the engine mounting bracket for the heat shield and the small heat shield.
7) When it's all done, it should look like this.
8) Lastly you may want to re-attach the stock engine cover.