Copy'd from my
build thread
to gain better traction and spread more knowledge for the community...
This would have been up sooner, if I wasn't having a sick day yesterday (woke up, the room was spinning, the nausea kicked in, and well you know the rest... wife told me to call the boss cause she wasn't going to let me drive if I couldn't see straight)... Anyway, enough about my life, you are here to read about a new product that is coming out for our Darts. One that has been a hotly debate topic through out the months and one that will benefit you in the long run.
Yes, there is another company that is coming out with aftermarket parts for our beloved Darts and Moog provided us with the problem solvers. If you are not familiar with the Moog brand, here is a brief run down before continue the un-boxing.
MOOG's reputation as "The Problem Solver" can be traced all the way back to 1937. That was the year the company first produced a front-end replacement part recognized by mechanics as outperforming the factory original. As years passed and MOOG continued to innovate, the company became known for its ability to consistently develop "problem solving solutions." Today, hundreds of innovations later, MOOG is recognized and respected throughout the automotive industry as The Problem Solver. It continues to earn that reputation by providing not only problem-solving parts, but award-winning technical support and training materials also. MOOG Problem Solver bulletins are one of the helpful tools technicians have come to count on.
Now that's out of the way, why MOOG? Why not BWoody's or just stick with OEM? Good questions right? Well, you already know why I took BWoody's off
here
; and there are two reasons why I went with MOOG's are not back to OEM...
[table="width: 750, align: center"]
[tr]
[td]
ZERK FITTINGS​
[/td]
[td]
OEM STYLE (IE: not ball & socket)​
[/td]
[/tr]
[tr]
[td]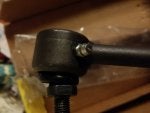 [/td]
[td]
[/td]
[/tr]
[/table]
As you can clearly see there are ZERK fittings for routine lubrication maintenance built in to the Moog end-links. This will prolong the life of the end-links and the life of your suspension. In my opinion this is a much more logical way to do lubrication. Simply hook up your grease gun to the fitting, three pumps and you are good to go with maintenance. Plus what I like about these are that the ZERK fittings are in a easy to locate area and won't be hard to find when you are doing maintenance. The OEM styling of the endlink will also keep the endlinkgs working much more efficiently that the Ball and Socket design that has openings to the elements.
When I opened the Moog's up I knew they weren't the "biggest" diameter, but I knew that they were SOLID. What I mean by solid is that they had some weight to them, they weren't going to "break" easy, you could use one in a fight if you needed (not that I condone violence). Below is a comparison of the OEM stockers, BWoody's & MOOG's with a quarter to show gauge the size:
[table="width: 1000, align: center"]
[tr]
[td]
MOOG's (by itself)​
[/td]
[td]
BWoody (Top)
[*]Moog (middle)
[*]OEM Stock (bottom)
[/td]
[/tr]
[tr]
[td]
[/td]
[td]
[/td]
[/tr]
[/table]
As you can see the Moog's are not the biggest in the diameter, the Bwoody's are the biggest in that category, but the Moog's are a very good improvement over the "stick/twig" like OEM stockers. Now just because they aren't the biggest doesn't mean they aren't solid. So, I figured I would take things to the next level...
[table="width: 1500, align: center"]
[tr]
[td]
OEM
[/td]
[td]
BWoody's
[/td]
[td]
MOOG
[/td]
[/tr]
[tr]
[td]
[/td]
[td]
[/td]
[td]
[/td]
[/tr]
[/table]
If you are having issues with the pics or can't view them here is the run down:
OEMs = 1lbs 1.1oz
Bwoody's = 1lbs 1.3oz
MOOG = 1lb 6.0oz
MOOG's are a full 4.9 ounces heavier than OEM's and 4.7 ounces heavier than BWoody's. No, I'm not shedding weight, and it shouldn't matter about it with the Dart, but what it should be noted that this heavier weight is perfect for suspension parts. These aren't going to "snap" going into a turn and they aren't going to fail when you need them the most. I much rather have heavier more solid suspension parts on my Dart (or any car) than something lightweight and is going to fail within a couple of weeks or months.
Conclusion aka #mooglife
​
I'm not here to rip one company over another. I had some bad luck with my front BWP endlinks, and I wasn't going to put the stocks back on because I wanted to try something out. MOOG's are a known brand that I trust and I have read countless reviews on how they are still holding up 100k+ miles. I am happy MOOG went with the problem solver design on these for our Darts which means the ZERK fittings are there and are easy for maintenance schedules. I'll be installing these when I get a chance this month and plenty of pics will be taken to show where the ZERK fittings are located when they are installed on the vehicle. I hope you give MOOG's a chance and don't overlook them when you are searching for your next suspension need.
Please remember and make note that you will need QUANTITY 2 (TWO) of K750691 for the complete kit, do not order qty 1 of K750691 or you will just get 1 end-link. As always if you have any other question comments or concerns please feel free to contact me and I will try and assist as much as possible.