Kenda Kaiser KR-20 225-40-18 review:
Links:
https://automotive.kendatire.com/en-us/find-a-tire/uhp/kaiser/
https://www.amazon.com/Kenda-Kaiser-KR20-P225-40R18/dp/B00HUMLQ86/ref=sr_1_1?s=automotive&ie=UTF8&qid=1542721086&sr=1-1&keywords=kenda+kr20#customerReviews
https://www.discountedwheelwarehouse.com/Tires/details?pt=Kenda+Tires+Kaiser+KR20+225/40R18+92H+BW&partno=KENDA-200023
https://simpletire.com/kenda-p225-40r18-24204022518w-tires
***You won't find these on Tirerack.com or most probably not your local tire dealer***
Images: (sorry have to clean them still)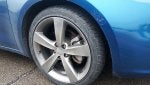 So this first post is a 'first impression' on the tire. Got two on the front yesterday.
At the current time of this post I have put a little under 100 miles on them.
Visual: It's a very cool and aggressive looking tire. There isn't much 'lip' to them (sidewall is more flush to the rim than the Yokohama S34NV's). But with less lip, it looks a smidge more racecar. lol. It looks to be a slightly taller tire than stock as well so it fills the wheel wells a little better.
Grip: It was drizzling rain this morning so I was able to put them at least to a little bit of a test. I didn't want to go crazy since I just got them last night. Went over some gravel in the road, pot holes. smooth surfaces, rough surfaces as well with a decent amount of speed but nothing crazy. I will say they GRIP! like really really really well. 1000x better than the Yokos over anything so far. Dry seemed very good which I expected but I didn't know how they would do in the wet.
Sound/Comfort: They are quiet for sure. The Yoko's would be very quiet on a smooth surface but VERY loud on a rough surface. The Kendas are just quiet. The ride quality is greatly improved but I can't be 100% for certain if it was just because the yokos were so worn out. The KR-20s do absorb bumps very well though.
I still have to go back for an alignment because there just wasn't enough time last night. The alignment tech explained to me that it's mostly in the back that needs adjusting, but some on the front right as well. He explained it could actually be more of the new tires on the car than anything but might as well get it done. I should be able to rip them a little bit tonight and give a better more thorough review on them.
So far? $90 per tire, I can't argue. We will see how they wear but judging by the fact it's a very preferable cheap drift tire, I doubt whatever me and my dart will put them through will give it much issue.