Hello guys! I have lurked here since I bought my Dart back in 2014, and recently my battery gave up on me so I had to swap it out. To my surprise, the Dart's positive battery terminal is pretty intimidating, and I could not figure out how to get it off until I unbolted just about everything (I'm used to older, simpler cars, like my SRT-4).
Anyways, since I couldn't find a how-to on here already, I decided to make one of my own. Hopefully it helps anyone who has gotten stuck like I did!
Tools: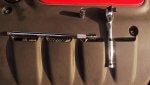 3/8 Ratchet
10mm socket
Long extension (I used a 10")
First
, let your car cool down some - especially if you have the 1.4L Turbo! The turbo sits about 12" from the battery, so it gets pretty hot. After the car has cooled off a bit, open up the hood, and locate your negative battery terminal. This one is on the right-hand side.
When you locate the negative terminal, get your ratchet and socket together and begin loosening the nut on the terminal but don't take it all the way off! You don't want to lose it. Once it is loose, you can wiggle it side to side and it will come free.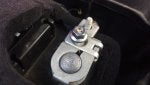 Next, it's time to tackle the positive terminal. There is a plastic housing over the terminal that powers all our fancy electronics like the UConnect, gauge cluster, etc. This housing has a little clip on the left-hand side you can pull up to open it like so:
To remove the terminal, we only have to undo one nut, just like the negative terminal. Loosen the nut that is right next to the terminal (again, don't remove!):
Once that is loosened, you can then close the plastic housing, and wiggle it left and right until it comes free.
Now you can pull off the (potentially gross) battery blanket and set it aside, or you know, hit it a few dozen times to get all the dirt and leaves off
Next, we have to remove the battery hold-down, which is located at the base of the battery, towards the front of the car. This is where the long extension comes in handy. Just undo that bolt, remove the bolt and set it aside, then remove the plastic block that holds the battery down.
Now, you can pull that big honkin battery out of there, and put your new one in it's place! Make sure you slip your battery blanket on the new battery.
*** NOTE: The battery I am using in this demonstration was NOT made for the Dart, so it is ill fitting and I do not recommend using it in yours. I am only using it because I can't get a proper battery for a few days, and my original battery would not hold a charge at all. ***
Put the hold-down plastic block back where it goes, and bolt it up:
Slip your positive terminal over the battery's POSITIVE post (this will be marked on your battery). Tighten down the terminal nut to about hand tight, it does not need to be very tight. Close the plastic housing:
Slip your negative terminal over the battery's NEGATIVE post (this will be marked on your battery), and tighten down the terminal nut (it may spark a little!):
And you're done! Admire at your beautiful work and once again reliable Dodge Dart.
Thanks for looking!