Discussion Starter
·
#1
·
Greetings all - long time forum member, but mostly I lurk and find the info I need. This time is a bit different...what I need is some solid guidance from mechanics experienced with this engine. I don't have a FSM, nor will I drop the coin to purchase one, but I've been fixing Italian engines for most of my fifty years on this planet, so I feel I'm smart enough to wing it.
My 2013 Dart Rallye has a little over 75k, and has been making a horrible clatter, along with a low oil pressure light, at idle when hot, for probably 20k now. No CEL or other issues until it began leaving a little puddle of oil wherever I parked it. I couldn't put it down for repair because a) it was my daily driver and b) there's nobody near me that I trust to touch this engine - the local dealership is HORRIBLE and ignorant, and there's no shop in town (I called EVERY ONE) that has any idea what to do with a Fiat 1.4l turbo engine. So, I do it myself.
Got the car in the air finally, got the timing belt cover off without even resorting to YouTube, and found a couple of concerning things: I noticed fresh oil leaking from the forward oil gallery plug behind the cam timing sprocket, so I put an 8mm allen in there and got easily a quarter turn on that plug. The rear gallery plug (10mm allen) was tight as balls, so I went back and put a little more on the front plug.
After a ziptie session to keep things out of the way , I headed to the car wash with a can of degreaser and blasted the whole front of the engine, then returned home. With the car on jacks, I started it and found the front main seal leaking, a drop every three-four seconds.
I pulled the right side wheel and fender liner, then the serpentine belt (again - no manual, but it wasn't rocket science). It gets even more interesting here, as I found all three bolts holding the CKP tuning ring/accessory drive pulley basically hand tight! No idea how long that thing's been that way, but it begins to explain some of the glitchy throttle response and weird boost fluctuations!
So now I'm down to the timing belt. I found the procedure in the Timing Belt Failure thread, and I don't have those special tools (OR a service manual LOL). But I'm a machinist also, so making a tool to do the thing should be a piece of cake. I've got to get the main timing gear off though, to get the main seal out. At this point I have both the cam cover and the oil pan off, so I guess I'll come up with a way to block both crank and cam in place while I do that.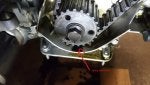 I have a hunch that I've slightly wiped a big-end bearing, which would explain the clatter and the low oil pressure - has anybody here replaced those with the engine in place? Looks like a typical con rod, and I've done con rod bearings in VW's and my old Taurus SHO from underneath. I'm wondering if the bolts are TTY though? Does anybody have access to that info? And looking for torque spec for the big end bolts.
From what I've read here, I'll go ahead and replace the water pump and idler/tensioner pulley while I'm in this deep.
If any other Fiat mechanics are seeing this and think I'm headed down some rabbithole, please let me know. This has got to happen, though, so responses suggesting I can't accomplish it or should just take it to the dealer will be ignored. It will not be the first (or last) time I replaced a timing belt without the proper instructions or tools.